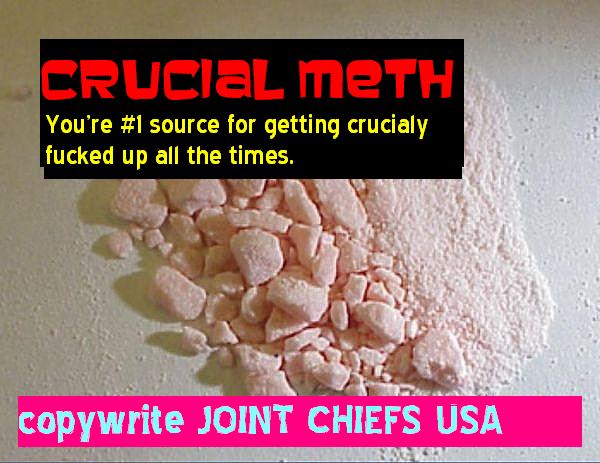 HELLO FOLKS
WELCOME TO "CRUCIAL METH" IT'S MY WEBSITE.
MY NAME IS KORNY THE KLOWN OF KANSAS.
A SHORT AUTO-BIOGRAPHY
I WAS RAISED IN KANSAS. MY MAW YELLED AT ME AND MY PAW BEAT UP GOOD. WHEN I GRADUATED HIGH SCHOOL I STARTED WORKING AT SUBWAY WHERE I GOT MY FIRST PAY CHECK. IT FELT GOOD TO HAVE MY OWN MONEY SO WHAT BETTER WAY TO CELEBRATE THEN GET RRRRREEEEAAAALLYY FUCKED UP!!!! BEFORE YA KNEW IT I WAS DOIN' HEROIN, CRYSTAL METH, AND ALL SORTS OF FUN DRUGS!!!! ONE TIME I CAME INTO WORK DOPESICK AND I THREW UP ALL OVER A CUSTOMER!!! MR. SCHLAGE (THE STORE MANAGER) KNEW I WAS REALLY SORRY SO HE DIDN'T FIRE ME. INSTEAD HE LET ME SUCK HIS BALLS AND NOW I COME IN TO WORK FOR FOUR WHOLE HOURS EVERY WEEK!!!! THANKS FOR VISITING MY WEBSITE AND I HOPE YOU ENJOY DRUGS AS MUCH AS I DO!!!